Furen International School BBGB Volunteer Project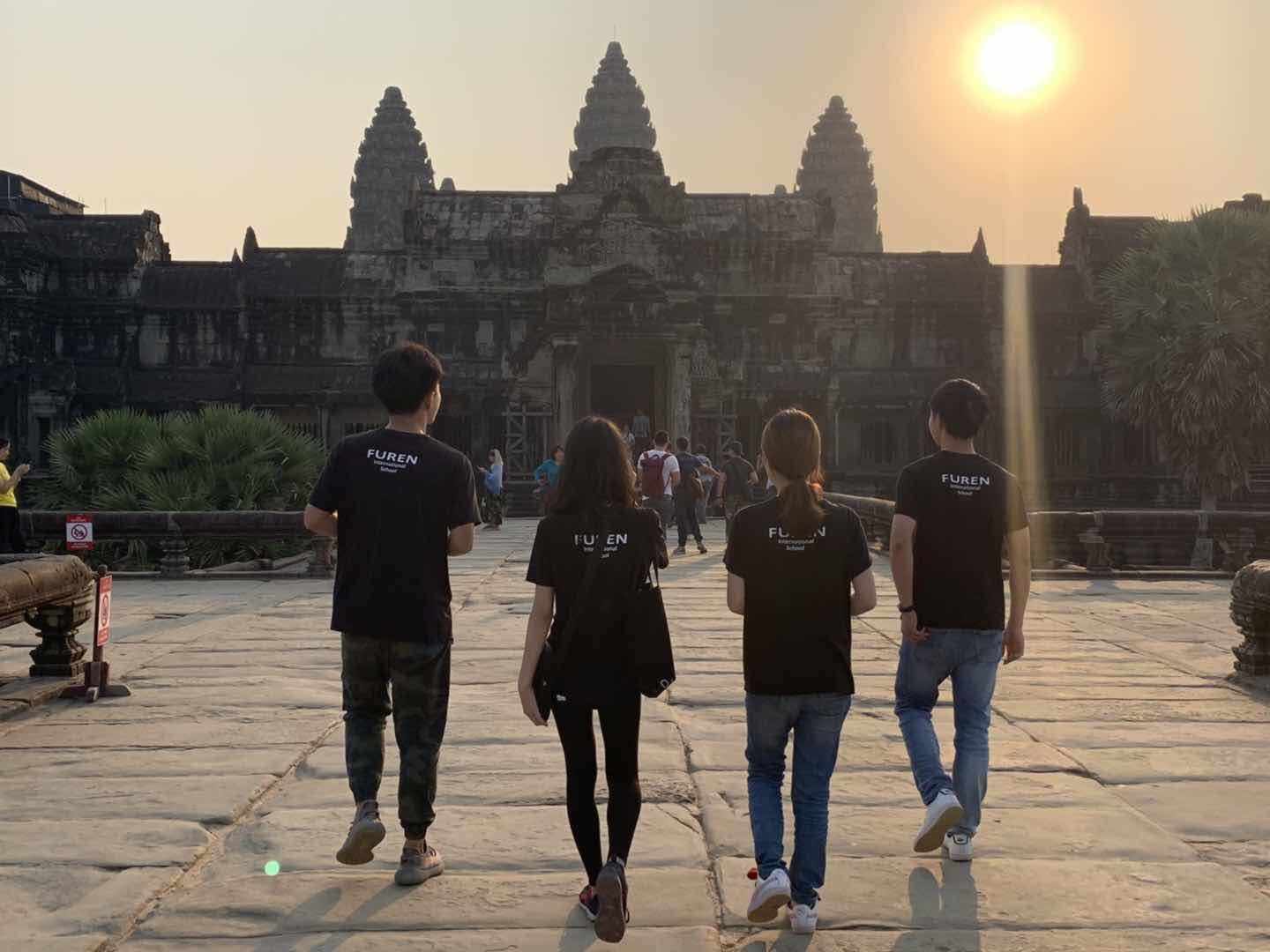 Furen International School Selected 4 leaders to lead the volunteer team from 9th June 2019 to 16th June 2019.  During 14th February to 17th February, these 4 leaders conducted a pilot study trip in Cambodia under the leadership of Teacher Keith. They will be looking forward to their official voluntary trip incorporated with BBGB (Boy's Brigade Girl's Brigade). They will be bringing a group of students from Furen International School (Participating students must be a member of the BBGB). Below are the details of the trip.
Location: Siem Reap, Cambodia
Time: June 9-16, 2019
Content: Helping local primary school to paint classrooms
Fundraising for local secondary schools
Teach in the local BBGB learning centers and students of Hope School
They visited local primary and secondary schools to experience the difficulties in their learning conditions in local schools. Even with stuffy classrooms and lack of learning resources, the local students never let themselves loses the desire to study and to gain more knowledge.
They visited the world cultural heritage – Angkor Wat
The spectacular history of the monuments makes them in awe of the ancient civilization of mankind.
Everyday, the 4 student leaders will sit around and share their experiences and feeling of the day. The simple living condition, poor sanitation and endless mosquito bites still can't shake their compassion and love because of the amount of passion the local children have for learning. This teaches them to not take good learning condition for granted and they should cherish everything they have.
Here are the thoughts of the students on this trip to Cambodia:
Shao Yi
As the saying goes, "Reading thousands of books is not as good as travelling thousands of miles." Sometimes knowledge is not the most important. More often, one's experience can determine the future direction. Going to Siem Reap, Cambodia to visit local schools and experience local life really make me feel how extravagant the conditions nowadays are for people in poverty-stricken areas. In Cambodia, the gap between the rich and the poor are very big. For the children of poor families, there is not even a pair of decent shoes at school. The perennial civil war has dealt a heavy blow to the economy and people of this country. The local teaching system is generally imperfect. At this time, if there are outsiders who are willing to help them, this will be a very meaningful thing. Just like this time at the BBLC reception our teacher said: "give them hope, give them possibility". Instead of direct charity, give them hope and possibility. The country needs to be built up by themselves, and what we can help at this moment is to do what we have learned to help them understand the world and help them to establish a correct concept and tell them what to do next. In giving and helping them, I am also gaining a lot myself. This trip has taught me a lot of new things, making me cherish what I have today and not take anything for granted.
Hu Lan
Cambodia, a country that has been behind China for 50 years. On the first day of the trip, we went to BBLC, a school in a small rural town and a branch of BBGB in Cambodia. The hospitality of the locals and the simple kindness of the children became my first impression of Cambodia. On the second day of the trip, we visited the local schools. There were no fans in their classrooms, and even the lights were not there. Imagine how it would be to learn at a temperature of 36 degrees Celsius. Every cloudy day, the classroom becomes very dark. But it is such an environment that we can't even think about, it is the place where they study every day. On the third day of the trip, we got up early and went to Angkor Wat to watch the sunrise. The Little Angkor Sunrise and the Bakheng Mountain Sunset was the most unmissable sights. When I went up the mountain at sunset, overlooking other temples, I saw a prosperous old dream of the Angkor Empire, it was magnificent but sad. This is a country that has been unforgettable for a long time. There are soaring palm trees everywhere, high-rise thatched cottages built, countless rich fruits on the stalls of small merchants, scattered in the Angkor Castle in the city of Siem Reap Cambodia, a place where you can cherish the better life now!
Myat Thuzar Kyaw
Personally, I really enjoyed this learning journey. Together with my trip mates, I learnt a lot related to community service. Going on this trip helped me experience the environment in Cambodia, and increased my understanding of how we can contribute to the learning environment in Cambodian Schools. We have come up with a few plans on what we want to pursue in our June trip. Apart from the knowledge I acquired, I am grateful for this trip because of the bonds and friendships we built between ourselves. I look forward to going Back to Siem Reap in June, hopefully with more students, and commit ourselves fully during the trip.
Luo Junming
I have a great time with the local people and my teammates during the trip. It is a really special experience for me. I had learned how to collaborate with others. I studied the local culture and custom. We are able to help the poor students to gain more knowledge and build up their English foundation through conducted some teachings in BBLC (Boy's Brigade Learning Center ) which implemented the young leadership and benefit the students in the same time Moreover, we are so lucky that we can watch the sunrise in Angkor Wat and visit one of the most religious monuments in the world. It is not only a meritorious but also meaningful journey to all of us!
---