English Week at FIS!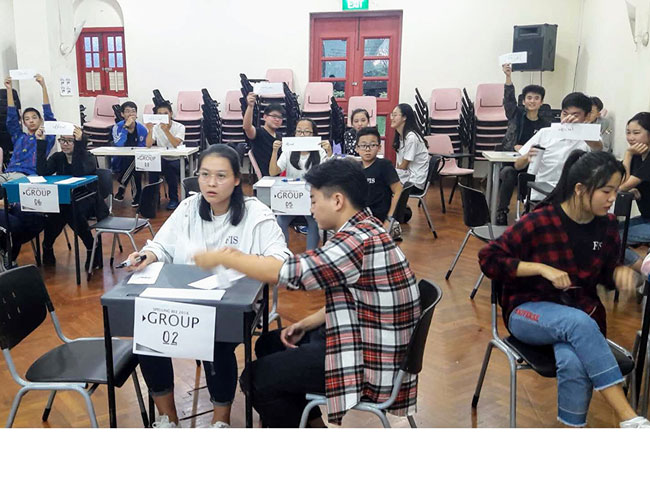 Following our eventful start to 2018, we concluded the month of January with English Week which consisted of numerous English related competitions for our students to participate in.
Spelling Bee
Our English Week officially kicked off with the Spelling Bee Competition as our 11 classes, each with 3 students, competed against each other over 3 rounds of spelling. With 10 words per round in increasing difficulty, each correct word in the first round is worth 1 point each, second round is worth 3 points each and the final round is worth 5 points each. Rest assured this was no walk in the park for our students as the final round consisted of words such as 'existentialism' and 'authoritarianism', words which I am sure would stump many an adult!
The final tally surprised us as our Lower Secondary Class came in third, beating out many of their older schoolmates! Congratulations to the winning classes:
Winner: G1202
Second: G1102
Third: Lower Sec
Out-Wit and Out-Speak
Our Debate Competition consisted of 3 rounds held over 2 days as 4 classes, each consisting of 3 speakers, aim to out-wit and out-speak the others as they tackled testy topics such as "Should Singapore maintain the number of foreign workers in the country?" and "Should all immigrants to Singapore be required to pass an English Language test?". The 2 winning teams faced off against each other in the final round which saw an intense debate on "Is CCTV is an invasion of privacy?", as both sides put forth compelling arguments for their respective cases.
Congratulations to Shen Xuanting, Wu Xiangjiehui and Qiao Xincheng of G1202, and Wu Dao, Ong York Kew and Seisar Lone May of G0901 for coming out tops as the best debate groups! Also good job to the following students for being named the best debater on their respective team:
G1202: Shen Xuanting and Wu Xiangjiehui
G1101: Huang Tianle
G0901: Seisar Lone May
G1001: Xu Yiqing
Gift of the Gab
In addition to the class-based activities like the ones above, competitions for individuals and groups of 2 were also had. Students with an interest in talking and sharing their thoughts and experiences took part in the Speech competition where the following students who came out tops in their respective courses for the Speech competition:
Lower Sec – Wong Kasheng
O-Level – Wong Yun
A-Level: Gui Qiuyi
Those with a flair for the theatrical on the other hand had the opportunity to perform in the Story-Telling competition that saw the participation of 11 groups. The many humorous storytelling performances replete with costumes and outfits drew the attention of most teachers in school who turned up in droves to support their favourite groups! Great work by all the students as our judges had an extremely tough time deciding on the final winners:
Winner: Wang Yawen (G1203) – 'Elephant and Friends'
Second: Lin Chuyuan and Huang Haolong (G1101) – 'Country Mouse and the Town Fox'
Third: Yu Qin (G1102) – 'The Right Person'
---