Li Kexuan was awarded $40,000 Scholarship from the University of Sydney
An Extraordinary uplifting news for Furen International school. Congrats to our graduating student, Li Kexuan, who got an offer to the University of Sydney and furthermore got a $40,000 "Vice-Chancellor's International Scholarship" (around RMB 200,000). This is the first time in the history of FIS that a student has received a scholarship from an Australian university and besides, with an esteem that is so high. There is no big surprise as she made her 4A* beneficial. This demonstrates that good education can truly gain you great rewards.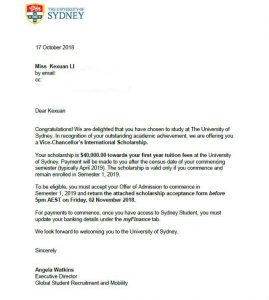 ☆University of Sydney (2019 QS World University Ranking 42)☆
Li Kexuan International Cambridge A-Level test scores are A*A*A*A*
Teacher evaluation on Li Kexuan:
She is a young lady with phenomenal self-awareness, empathy, and exceptionally delicate with other individuals. She is very intelligent and very sincere. She is very willing and happy to help other students to make progress together. Li Mengzhe, who also achieved an excellent result of 3 A* in the international Cambridge A-Level exam received help and counseling from Li Kexuan. After graduation, she did not travel around like other students, but went to Chengdu, Sichuan, to volunteer to protect giant pandas and to offer her love for rare animal conservation work. In education, she not only worked hard but also had a very good attitude. She believed that learning should not be a chore, but a process of progress and absorption of knowledge, so she was not afraid of difficulties and was always willing to try.  She took advanced mathematics and got A* for it. I believe that children like Kexuan, regardless of whether she has such great results, will develop very well in the future, not to mention that she is simply a student of amazing learning ability. Once again congratulations to her, I believe her future will be brimming with splendor, and she will shine.
RISE ABOVE THE ORDINARY!
---