2017 Graduation – The Day of Graduation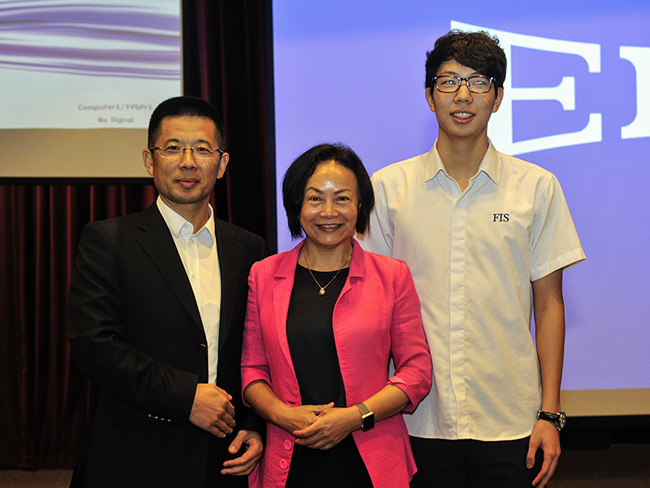 A euphoric day filled with tears of joy, plenty of hugs, reminiscence of the past and talk of the future. These are imageries synonymous with graduation days, and the FIS 2017 Graduation Day was no different and more! Awards were given to outstanding students, memorable (let's not forget hilarious) performances were put up by both students and teachers, and touching speeches by the parents of our graduating students added to the flavour in this year's event.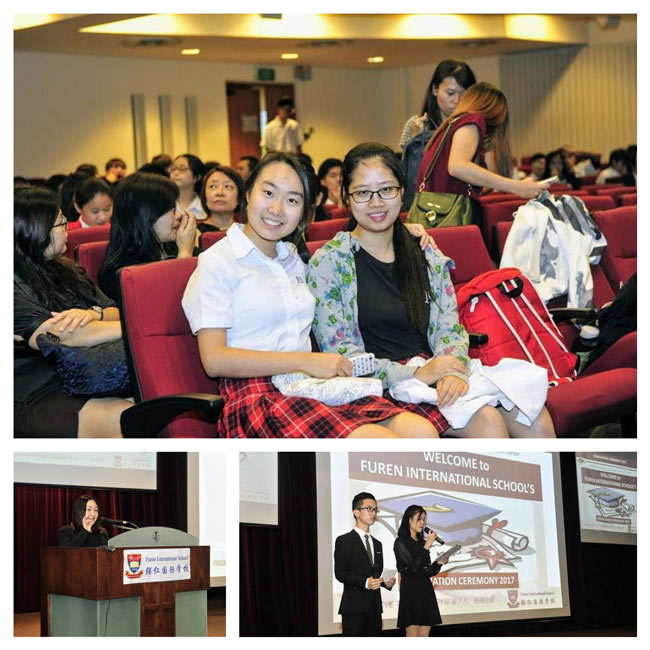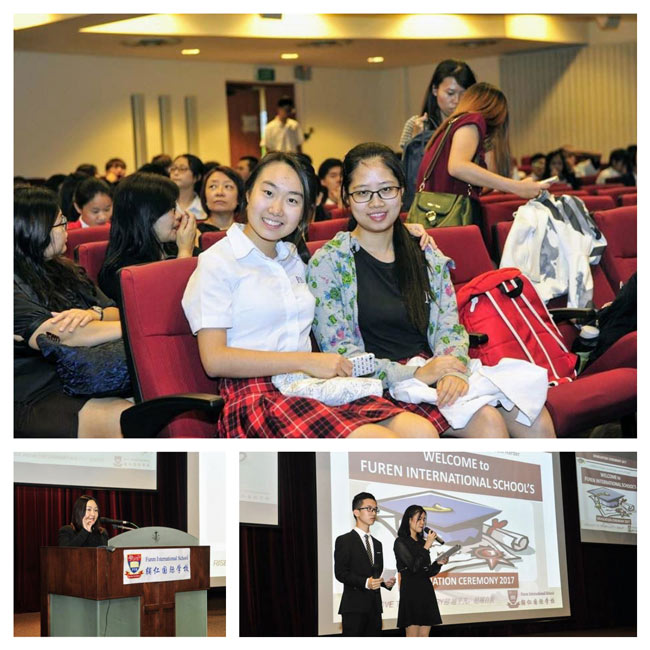 Excitement for the evening began way before the start of the ceremony as students were busy snapping selfies with their best friends and favourite teachers with smiles and laughter echoeing through the hall. Our hosts for the night, Liu Muyang of O1702 and Laowang Supaporn of O1801 were dressed splendidly and dictated the flow of the event throughout where our students put forth touching and good humoured performances amidst the various awards given to our students who have excelled in various aspects.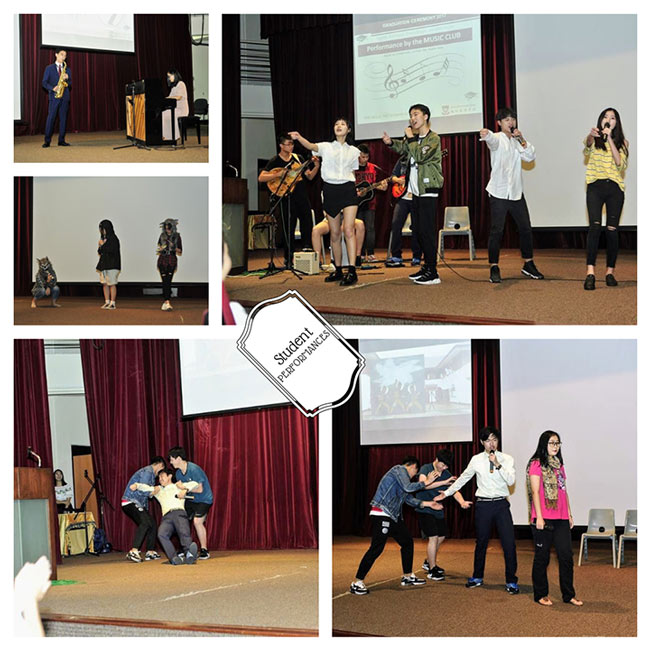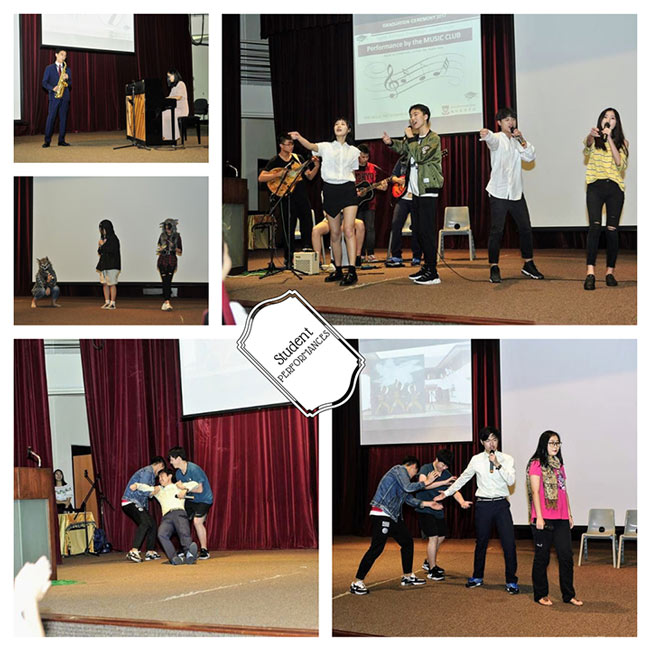 After the opening speech by our Vice-Principal, Dr. Liz Chan, members from the Music Club got the show started with their rendition of the Chinese version of "Sing For You" by EXO followed by the upbeat "Good Time" by Carly Rae Jepsen and Owl City that got the crowd going! A touching musical piece by Zhang Yuqin and Xu Wenxi on the saxophone and piano respectively nearly brought tears to our eyes while light hearted and humorous performances by both the Drama Club and Debate Club (at the expense of some of their favourite teachers) brought out the cheers and laughter from the crowd. And what is a FIS Graduation Day without at least a performance from the teachers? True to what is fast becoming an annual tradition, the teachers put up a short skit that ended with a large group rendition of "Graduation Song'.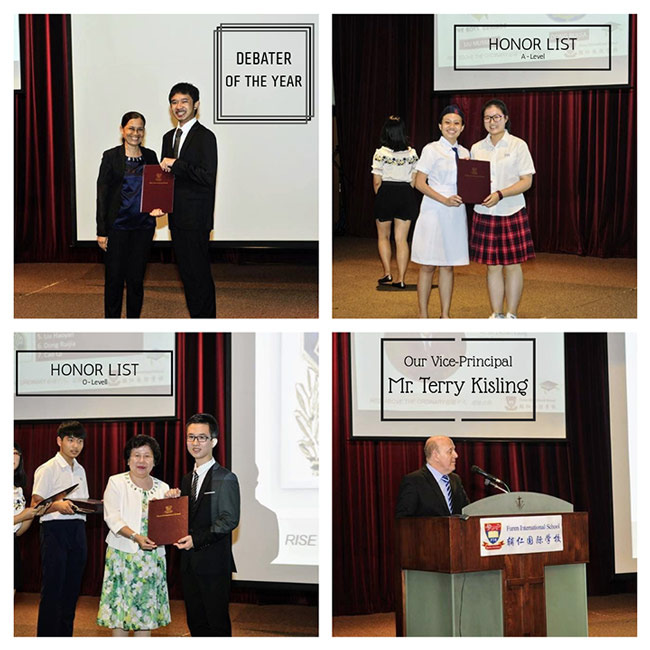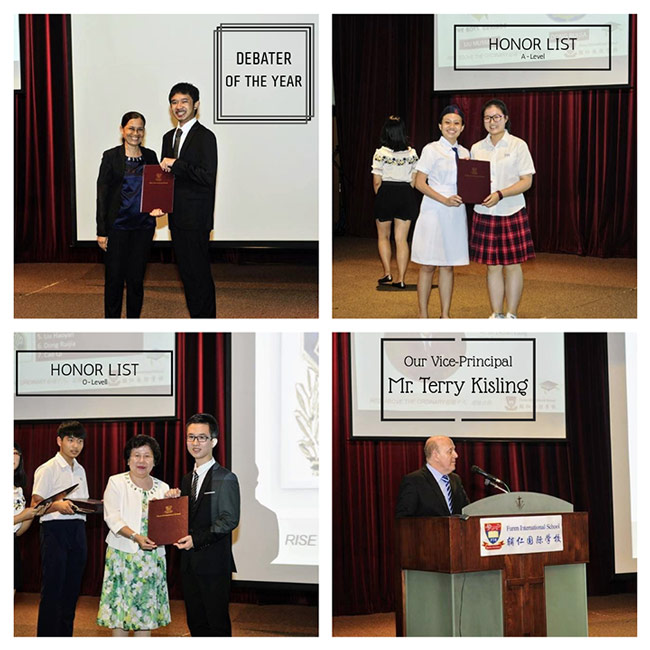 Videos were screened throughout the evening, bringing back fond memories of the fun times our graduating students had at FIS, and parting words of wisdom from the teachers. In what is considered a first for us, we also had speeches of thanks and recognition from parents, acknowledging and thanking the hard work put forth by our teachers in grooming their children into outstanding and responsible adults. Speaking of recognition, it was also the time to recognise students who put in the extra hard work academically with certificates given to the top students of each level (those on the Honor List) as well as non-academic based awards such as the Leadership Award for those who have displayed their leadership chops, Top Boys' Brigade Student, Top Girls' Brigade Student, and Debater of the Year awards for the best performing member from each of those CCAs.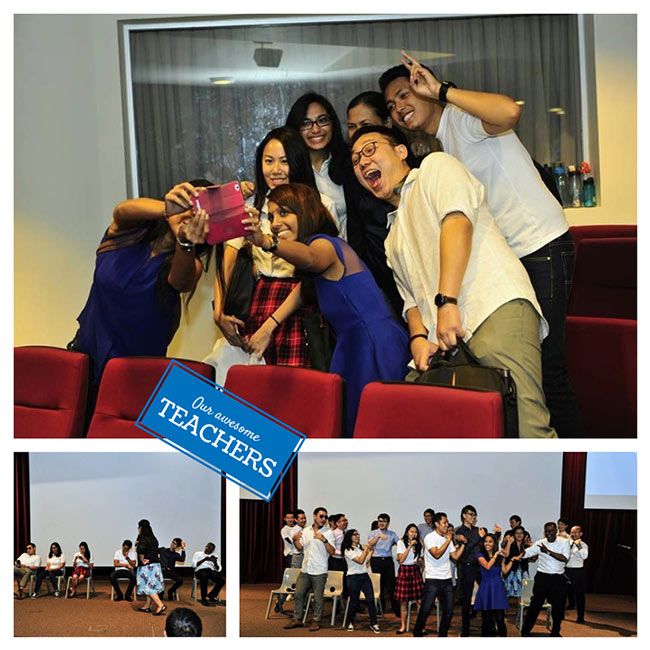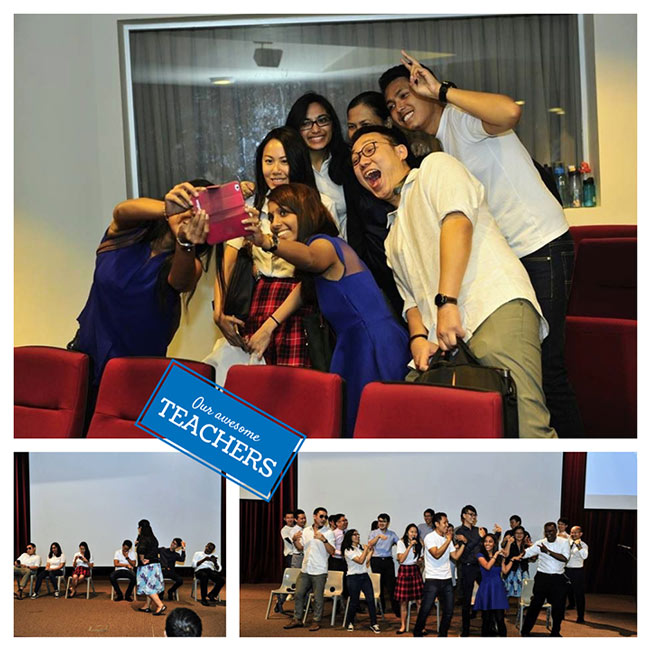 With the completion of their O-Level and A-Level examinations, we wish all of our students the best in their future education and look forward to their future development as they strive to continue RISING ABOVE THE ORDINARY!
A-Level Honor List
Dong Ruijia, Su Haotian, Liu Haoran, Zheng Sitan, Xie Peining, Shi Yining, Shang Zewen, He Heshui, Wang Yiran and Wu Qi
O-Level Honor List
Liu Muyang, Feng Xinyi and Aung Khant Phone
Lower Secondary Honor List
Wong Ka Xuann and Wang Yitong
Top Boys' Brigade Student
Liu Muyang
Top Girls' Brigade Student
Dong Ruijia
Debater of the Year
Liu Haoyan and Toe Kyaw Htet
Community Service Award
Li Beijia
Leadership Award
Liu Muyang, Qin Jian, Lu Hongyu, Huang Yixuan, Liu Haoyan, Dong Ruijia, Cao Qi, Cao Yuwen, Chen Hao, Liu Yuxuan and Xie Peining
---